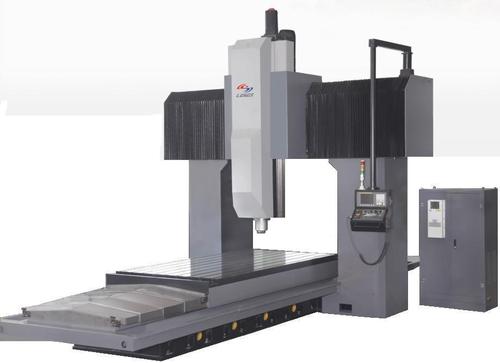 CNC Plano Millers
Product Code : XK
Product Description
We offer technically sound CNC Plano Millers in various specifications to suit your machining requirements. These are largely used in heavy industries for different purposes. Fabricated with quality materials and advanced components, these milling machines are rugged, durable and efficient in nature. With high machining capacity, our machines provide superior performance even in extreme conditions and satisfy different machining requirements. Also, our CNC Plano Millers are user friendly and low maintenance in nature. Based on proven technologies, they enable optimum machining for a wide range of workpieces. They incorporate assorted features & benefits:
Key Points:

Heavy-duty and high-speed machine
Suitable for various machining needs
Effectiveness and stability
Simple, safe & reliable
Best machining rigidness & prolonged precision
Key Features:

Basic parts are made of high quality cast iron in high strength; the high pressure molding of large parts enables the machine in good rigidity & aseismicity, and good precision holding ability.
Gantry type frame structure, compact machine, mobile table, technological layout and good appearance.
Heavy-duty linear rolling guideway in X/Y axis with high precision & large load. Hard guideway in Z, self-poise system of symmetric double oil cylinder in spindle box insures precision of feeding & rigidity.
Renowned high-speed spindle unit, suitable speed change mechanism for strong cutting at low speed.
Widely used in precise machining in industries such as molding, automobile, aerospace, packing, textile, and so on.
Ideal for machining requirements on processes such as boring, drilling, milling & tapping etc.
Specifications

XK2216

XK3216

XK3220

XK4220

Travel

X×Y×Z(mm)

2200×1600×710

3200×1600×710

3200×2000×1060

4200×2000×1060

Distance

Spindle nose to table surface(mm)

200-910

200-910

200-1260

200-1260

Spindle center to column(mm)

432

432

432

432

Between columns(mm)

1630

1630

2000

2000

Table

Size(L×W mm)

2000×1250

3000×1250

3000×1600

4000×1600

T-slot size(W. ×Q.×D. mm)

22×7×180

22×7×180

22×9×180

22×9×180

Max. load(kg)

5000

6000

7000

8000

Spindle

Taper

BT50

BT50

BT50

BT50

Speed (rpm)

50-6000(Standard)

50-3000(Heavy)

50-6000(Standard)

50-3000(Heavy)

50-6000(Standard)

50-3000(Heavy)

50-6000(Standard)

50-3000(Heavy)

Power (kw)

15/18

15/18

15/18

15/18

Feed

Fast moving speed of X/Y (m/min)

15

15

15

15

Fast moving speed of Z (m/min)

10

10

10

10

Cutting feed speed (mm/min)

1-4000

1-4000

1-4000

1-4000

Precision

Position accuracy (mm)

X:0.032

Y:0.028

Z:0.023

X:0.032

Y:0.028

Z:0.023

X:0.032

Y:0.028

Z:0.023

X:0.032

Y:0.028

Z:0.023

Reciprocating position accuracy (mm)

X:0.016

Y:0.014

Z:0.011

X:0.016

Y:0.014

Z:0.011

X:0.016

Y:0.014

Z:0.011

X:0.016

Y:0.014

Z:0.011

Others

Pressure (MPa)

0.65

0.65

0.65

0.65

Power capacity (KVA)

50

50

60

60

Dimensions(L×W×H m)

5.6×3.5×3.8

6.6×3.5×3.8

9.5×3.9×4.2

10.5×3.9×4.2
Contact Us
No. 5, Donghai Road, Zaozhuang Economic Development Zone, Shandong Province, Zaozhuang, Shandong, 277100, China
Phone :86-632-3825098