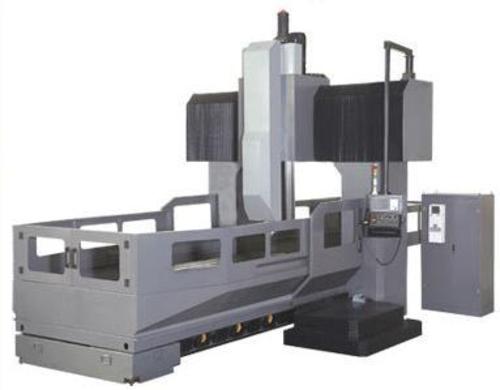 Gantry Milling Machine
Product Code : XH
Product Description
Gantry Milling Machine

If you are looking for high quality Gantry Milling Machine then you are at right place. We are the well known manufacturer, exporter and supplier of this machine. Our offered product are engineered and construction to the highest caliber that ensures its durability and quality. This machine allow for huge volumetric accuracy and ability to approach the part from the multitude angle. Moreover, these Gantry Milling Machine is provided to our customers in various specifications as well as at market leading prices.

Key Features:

Widely used in industries like molding industry Œautomobile industry Œaerospace industry Œengine industry Œpacking industry Œtextile industry and so on.
Basic parts made of cast iron in high quality & strength Œ high pressure molding for large parts enables machine in good rigidity Œ& good precision retaining ability.
Gantry type frame structure mobile table compact structure of whole machine Œscientific layout elegant appearance.
Famous high speed spindle until Œspeed change mechanism of it fits strong cutting at low speed.
Specifications

XH2216

XH3216

XH3220

XH4220

Travel

X*Y*Z mm

2200*1600*710

3200*1600*710

3200*2000*1060

4200*2000*1060

Distance

Spindle nose to table surface(mm)

200-910

200-910

200-1260

200-1260

Spindle center to column(mm)

432

432

432

432

Between columns(mm)

1630

1630

2000

2000

Table

Size(L*W mm)

2000*1250

3000*1250

3000*1600

4000*1600

T-slot size(W. *Q.*D. mm)

22*7*180

22*7*180

22*9*180

22*9*180

Max. load(kg)

5000

6000

7000

8000

Spindle

Taper

BT50

BT50

BT50

BT50

Speed (rpm)

50-6000(Standard)

50-3000(Heavy)

50-6000(Standard)

50-3000(Heavy)

50-6000(Standard)

50-3000(Heavy)

50-6000(Standard)

50-3000(Heavy)

Power (kw)

15/18

15/18

15/18

15/18

Feed

Fast moving speed of X/Y (m/min)

15

15

15

15

Fast moving speed of Z (m/min)

10

10

10

10

Cutting feed speed (mm/min)

1-4000

1-4000

1-4000

1-4000

Precision

Position accuracy (mm)

X: 0.032

Y: 0.028

Z: 0.023

X: 0.032

Y: 0.028

Z: 0.023

X: 0.032

Y: 0.028

Z: 0.023

X: 0.032

Y: 0.028

Z: 0.023

Reciprocating position accuracy (mm)

X: 0.016

Y: 0.014

Z: 0.011

X: 0.016

Y: 0.014

Z: 0.011

X: 0.016

Y: 0.014

Z: 0.011

X: 0.016

Y: 0.014

Z: 0.011

Others

Pressure (MPa)

0.65

0.65

0.65

0.65

Power capacity (KVA)

50

50

60

60

Dimensions(L*W*H m)

5.6*3.5*3.8

6.6*3.5*3.8

9.5*3.9*4.2

10.5*3.9*4.2
Contact Us
No. 5, Donghai Road, Zaozhuang Economic Development Zone, Shandong Province, Zaozhuang, Shandong, 277100, China
Phone :86-632-3825098