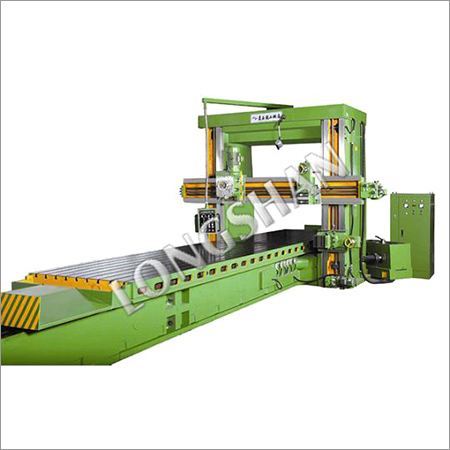 Planer Milling Machine
Product Code : BXMQ20
Product Description
Our company hold expertise in manufacturing, exporting and supplying a superior grade of Planer Milling Machines. Our offered machine is widely appreciated by our customers due to its trouble free functionality and long life nature. Widely known for its quality, this machine can be availed to our customers at market leading prices from us. As we are a quality oriented company, we look to improve the quality of our Planer Milling Machines through research and development work.
The main transmission takes SRD or servo system; a broad range of step-less speed change for movement of table satisfies the demands of planning/grinding/milling at different speed, independent spindle feeding box allows balanced feeding to process plane, T slot, inclined plane, combined guide-way or rack etc. Very stable table movement.Sufficient lubrication of table at all speed with the help of independent lubrication system.
Adoption of heat treatment methods like drawing the temper off, quiver-ageing or hyperacoustic quenching on the main parts as the machine body and column enables perfect accuracy & longer working life.
Machine body/beam/column/table is designed according to the aspects of heavy-duty machines, and the material used is cast iron (≥HT250), hence the machine has better stability & accuracy retention.
Specifications:

Model

Parameter

Light Gantry Planer Milling Machines

BXMQ2010A

BXMQ2013A

BXMQ2013C

BXMQ2016B

BXMQ2016D

BXMQ2017B

BXMQ2017C

BXMQ2017D

Max.allowable dimensions of work-piece

Length mm

3000

3000

4000

4000

6000

8000

10000

12000

Width mm

1000

1300

1300

1600

1600

1700

1700

1700

Height mm

1000

1200

1500

Max. table load kg

3000

5000

6000

6000

8000

10000

12000

15000

Table power kw

15

15

22

22

22

30

30

37

Table

Length mm

3000

3000

4000

4000

6000

8000

10000

12000

Width mm

700

900

900

1200

1200

1300

1300

1300

Max. allowable pull of rack

44000 (N)

Speed m/min

0.08-30(Stepless)

Dis. between columns mm

1040

1320

1320

1620

1620

1720

1720

1720

Feed rate of vertical tool rest

Horizontal mm

0.2-12(Stepless)

Vertical mm

0.2-12(Stepless)

Feed rate of side tool post mm

0.2-6(Stepless)

Up/down speed of beam mm/min

360

Max. sectional area of planing arbor mm

40 x 40

External dimensions

Length mm

6700

6700

8700

8700

12700

16700

20700

24700

Width mm

2900

3200

3200

3500

3500

3600

3600

3600

Height mm

2600

2600

2600

2800

2800

3100

3100

3100
Contact Us
No. 5, Donghai Road, Zaozhuang Economic Development Zone, Shandong Province, Zaozhuang, Shandong, 277100, China
Phone :86-632-3825098